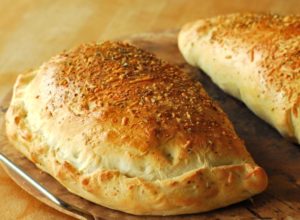 Hot, Flaky, and stuffed to bursting
Our calzones are made with the same great dough as our pizzas. Then we stuff them full of all the great stuff that you love. these are great to grab for lunch or to take to that soccer game.
Pepperoni: Mozzarella cheese, pepperoni, and pizza sauce. $8.99
Deluxe: Mozzarella Cheese, Pepperoni, Ham, Green Pepper, Onion, Mushroom, and pizza sauce. $10.99
Steak: Mozzarella and american cheeses, Steak, Mushroom, and Onion, with golden italian dressing $11.99
3 Topping: Mozzarella Cheese, Pizza Sauce, and any 3 Toppings. $10.99**
**Extra toppings $1.00 each (max 5 toppings).