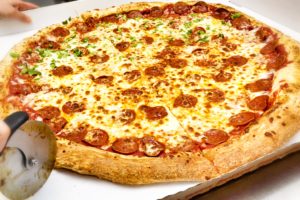 Round, Deep Dish, or Thin Crust The Choice is Yours!
Fresh made dough, tangy sauce, melty cheese make for the perfect base for your very own craving creation. With flavored crusts that include butter, garlic, romano cheese, sesame, or cajun seasoned. Then choose your favorite toppings from:
Pepperoni, Italian Sausage, Ham, Bacon, Ground Beef, Black Olives, Green Pepper, Tomato, Mushroom, Onion, Pineapple, Jalapeno, Mild Pepper Rings, Anchovies, Feta Cheese, Grilled Chicken, Steak.
You can check out our gourmet pizzas Here. No matter what choices you make you are sure to love it!
Small 12"
(8 Slices)
$9.99
Medium 14"
(10 Slices)
$11.99
Large 16"
(12 Slices)
$13.99
X-Large 24"
(16 Slices)
$22.99
Deep Dish 12x12
(9 Slices)
$13.99
Deep Dish 12x24
(18 Slices)
$22.99
10" Gluten Free
(8 Slices)
$11.99
8" Personal
(4Slices)
$5.99
Cheese and 1 topping included in price
*Extra toppings $1.25-$2.50ea depending on size.
**Extra cheese $1.50-$4.00 Depending on size
***Grilled Chicken, Steak, and Anchovies count as double items